Yogev Kuznetsov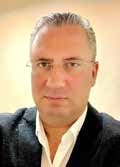 How long have you lived in Ontario, and where did you live previously?
I have been living in Toronto for one-and-a-half years. And before that, I lived in Israel for almost thirty years.
What area of the city do you live in, and why?
I have chosen as my place of residence the beautiful area of North York, on Fisherville Street. There are many Jewish families here, as well as many Russian-speaking Israelis, who, like me, love a quiet and peaceful life. Parents and children often walk around in the summer, and boys and girls ride their bicycles in the shade of the beautiful trees along the street.
Where does your family come from?
I grew up in Belarus, and spent my childhood and formative years there. All my childhood memories are associated with Krasnoarmeyskaya Street in the small town of Bobruisk. We boys loved to pick apples and pears from the fruit trees that filled our yard. They were so delicious! There was a gazebo in the middle of the yard, where men played dominoes almost every day. Now this life only remains in the movies. I knew almost all my neighbors by name. In the summer we played football on the sports field, and in the winter we poured water onto it ourselves and played hockey there. The frigid cold would reached -20 degrees, but the cold was not terrible for me: my grandmother and parents always made sure that I was warmly dressed. Sometimes honey was brought to our yard! Oh, how great it was to come home from the cold and drink hot tea with honey or raspberry jam.
My beloved grandmother, Galina Borisovna Epshtein (Goda Benetsianovna) grew up in a family that observed Jewish traditions, and everyone spoke Yiddish. My grandmother's father would often gather the neighborhood children and teach them Yiddish, and then treat them to lunch or dinner. Grandmother Galya was a diligent student, and before the war she entered the Faculty of English at the Institute of Foreign Languages. But the war prevented her from completing her studies. On the day the war began, she was on foot traveling from Minsk to Bobruisk, and on the way they were fired upon by low-flying fascist planes. She miraculously survived. In Bobruisk, my grandmother found out that her parents had been shot. I have never seen my grandmother's husband, Yudke (Yuri), because he died in Germany shortly after the end of the war and was buried in the city of Potsdam. My grandmother never remarried, and her older brother Zinovy (Zusya) helped her all her life.
My mother, Yudith Yurievna, worked at the Bobruisk music school where I studied. At first I played the piano, then I wanted to learn how to play the clarinet. I took part in the national competition and played in the Moscow Pioneer Orchestra at the Moscow House of Pioneers in 1985.
Remembering all of this, I think about my father, Leonid Mikhailovich, who recently passed away. My father was a kind person who loved me and my sister Vika deeply. I remember his mother, my grandmother, Raisa Ryvkina, very well. My father graduated from a construction college and worked at a fiberboard plant as a construction brigade foreman. My parents and I immigrated to Israel in 1990, when I was 18 years old.
What is your occupation?
After completing my military service in the Israeli army, where I served in the artillery, on the advice of an employee of the Jewish Agency in Haifa, I entered the department of Television and Cinema at the Academic and Technology College of Tel-Hai in 1995. It was my childhood dream come true! After all, since childhood, I was fond of photography and was part of an amateur photography group. I had a photographic enlarger, locked myself in the bathroom, under the light of a red lamp, and developed the photographs.
The first time I saw a real television camera was when the Belarusian television was filming a program about the Bobruisk brass band, in which I played. I was nine years old at the time. I remember my delight when one of the camera operators allowed me to point the camera at the ferris wheel in the city park. In 1997, having shot a short feature film, I defended my thesis as a cameraman and received an 80 grade. I was awarded a diploma in practical engineering of television systems and production. After graduation, I worked in Israel at Top Line, Matav (HOT), and Herzelia Studios.
Currently I am the CEO of the YK Talent Agency, an acting agency founded in Israel. Our agency provides services related to the organization of television shows and film production. We are currently working on completing the filming of the short feature film, "The Land of the Onion," the script for which I wrote back in Israel in 1997, and where we shot the first two episodes.