DR. TATYANA BARANKIN
Doctor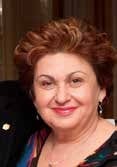 Please tell us a little about your career.
I am a doctor by profession. I graduated from the Leningrad Pediatric Medical Institute and worked in Kishinev as a pediatrician before leaving for Canada in 1980. I completed my Medical Council of Canada qualification exams in Toronto, and, after six years of residency, became a specialist in psychiatry for adults and children. In 1988 I defended my thesis on the "Adaptation of Soviet Jews and their Children in Toronto." Currently, I am a professor at the University of Toronto School of Medicine, and had been the director of the Continuing medical education and the director of the clinic I founded and directed for children whose parents have serious emotional illnesses – the only clinic of its kind in Canada. My work has been recognized with several awards, including from the University of Toronto and the Canadian Psychiatric Association. In 2017, I received the Ontario Medical Association Life Time Achievement award. I have written the book "Growing Up Resilient: Ways to Build Resilience in Children and Youth," and have been invited to speak on this topic in many Jewish organizations.
Which neighborhood do you reside in, and why did you choose this area?
In Canada, we settled in the North York area. We arrived around the same as the young Rabbi Zaltzman, who immediately knocked on our door. We chose this area because a large number of Jews live here, and many Jewish organisations are located here.
Where does your family come from?
My family roots go back to Ukraine and Bessarabia. My parents, Zalman and Sarah Hansis, considered themselves Bessarabian Jews. My mother's grandmother belonged to an enlightened Jewish family from Odessa. Her sister, born in 1888, received her medical education, and was a doctor during the WW II. She died shortly after the war while battling a typhus epidemic. My grandmother married into a religious family in Bessarabia. My grandfather was an Orthodox Jew — he knew the language of prayer, prayed every day, and taught children to Jewish traditions. My father attended a traditional cheder, and our family participated in the Zionist Trumpeldor movement. I even kept Trumpeldor's portrait in secret. My father's parents and his younger sister were killed in the first days of WW II. The Germans passed through the unfortified Romanian border like a knife through butter, and immediately set about exterminating the Jewish population. During the evacuation, my maternal grandfather was killed during bombing. My grandmother was left a widow with eight children, one of whom was my mother. This grandmother, Klara, lived with us. She taught me to appreciate being Jewish, our people's history and religion. My grandmother visited the synagogue regularly, and every Friday my mother prepared a festive Shabbat dinner, we closed the shutters, and we lit candles. One time we forgot to close the shutters. The next day, I, a ten year old girl at the time, was summoned to the school principal and asked: "Who died in your house?" I did not understand the question, but they explained to me: "we saw candles burning." In order to have kosher chicken for the holidays, a schochet [ritual slaughterer] would come around. Once, before Passover, we were informed that the authorities had forbidden him to work. My grandmother said that she would fast during Passover since there was no kosher meat. My mother took me and my sister by the hands, and at 2am, holding two live chickens by the legs, we walked through the streets of Kishinev trying to find a shochet. To our surprise, we saw other Jews also wandering around with squawking chickens in search of a shochet. And everyone else also brought their children, hoping this would protect them from being arrested.
What do you do in your free time? Do you have any hobbies?
I completed ten grades of a special music school, and I play the piano. I also graduated from the art school at The Hermitage, where I studied the history of fine art. I am currently a member of the Art Gallery of Ontario. In addition, I participated in various projects as a volunteer. My late husband, Froim Barankin, with whom I shared 41 years of happy married life, was a member of the Board of Directors of JIAS. In his memory,our family established in Toronto Jewish Free Loan the Barankin Family Fund to Help Jews from the Soviet Union. This fund provides interest-free loans to needy Jewish families. I worked there as a volunteer for several years. In our family, we supported Jewish traditions, raised two sons, who were brought up in the spirit of Jewish values. Now I am a grandmother of four grandchildren, and I devote much of my time to them. My eldest grandson recently celebrated his Bar Mitzvah.
If you had the opportunity to make a "L'chaim" with anyone is history, who would you choose, and why?
I would like to chat with Joseph Trumpeldor. Despite the fact that he was an outstanding officer of the Russian tsarist army, a full Knight of St. George, he retained his Jewishness and left for Palestine. There he became a national hero of Israel. In 1920 he was mortally wounded in a fight with the Bedouins.
What are your plans for the future?
Remain optimistic, continue to help people, enjoy music, painting, travel (after the end of the pandemic) and, of course, my wonderful family.