ROI AFTABI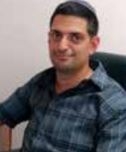 BUSINESS/ORGANIZATION MANAGER, THORNHILL
Can you tell us a little about your background?
I'm a "Sabra," which is the Hebrew word for the fruit of a cactus plant characteristic of Israel. The word is also used as slang for indigenous Israelis, since, like the fruit, they are prickly on the outside yet sweet on the inside. My parents come from the Iranian province of Kurdistan. My paternal grandfather was very successful in this country, and made a fortune there. But he always dreamed of Israel, and eventually he decided to leave everything and move to the Holy Land. It so happened that he spent the rest of his life in financial stress, but never regretted that he moved to Israel. My maternal grandfather became the head of the religious community of the settlement of Shibolim, devoting himself to organizing the life of the synagogue. He died recently at the age of 95, and I am very proud of him. Both of my parents' families were religious and observed all Jewish traditions.
So, growing up in Israel, does that mean you served in the IDF?
Yes, for three years.
What did you do during your army service?
I served in the Engineering Corps and was the commander of the warehouses. Under my command were fifteen warehouses with weapons, military uniforms, products, tools and other things.
What did you do after the army?
I continued my education in various universities in Israel. I studied computers, chemistry, economics and business management.
What is your profession?
I was engaged in business for most of my adult life. It started at the age of 14 I sold hair bands to shops. For two months I worked after school, without any rest, as they say, but I earned next to nothing; others earned in just two days what I earned in two months. But it was an important stage of my development and education at that important stage of life. I learned a lot, and most importantly, I got some clarity about my goals, what I would like my life to look like, and which direction to go in. When I was a student (I was then 23 years old), I founded a small business. I hoped that this would allow me to earn more than friends who studied during the day, but worked at night. After 3 years, this small business developed so much that it became the second largest in its field and served the government, municipalities and the largest companies of Israel.
How did you come to join the JRCC team?
First of all, I wanted to live in a Jewish community and thought that it would be best to ask my community to help me with the work. I applied to Jewish Vocational Services, and I was recommended to the JRCC to be the Director of Furniture Depot, where my skills of creating working systems proved very useful. Gradually the Furniture Depot expanded significantly, and over the last four years it evolved into the one of the social services with the highest demand in the GTA. Last year, 729 families were able to improve their living standards with the help of our Furniture Depot. We cooperate with 64 GTA organizations, receiving funds from the The Regional Municipality of York, United Way, and Mr. David Mirvish. In addition, Dr. Marat Ressin sponsors the project, allowing the use of a warehouse rent-free. Currently, I was offered the position of Chief Operating Officer at the JRCC, one of the leading positions in the organization. The COO is responsible for overseeing, systematizing and managing the day-to-day operations of the organization.
What do you do in your free time? Do you have any hobbies?
My hobby is to learn new things. I'm always looking for – and find – new interesting ideas, and I try to study material associated with them. In the last two years I spent most of my free time studying permaculture, the so-called "permanent agriculture". Permaculture is a special approach to the design of the surrounding space, an agricultural management system based on the interrelationships of natural ecosystems. In addition, I'm interested in macroeconomics and microcontroller programming (microchip designed to control electronic devices).
In which JRCC programs do you and your family participate?
My son attended the Bar-Mitzvah Club classes at JRCC East Thornhill. After a year of study, he was so well-prepared that when we held his Bar Mitzvah in Israel, the whole family was impressed and delighted! He read his Torah portion so well that it exceeded all our expectations; he read it more proficiently than the boys who were preparing for their Bar Mitzvahs in Israel. Two of my daughters also studied for two years at the JRCC Hebrew School. 
What are your plans for the future?
At at the moment, it's too early to say what I plan to do, but my goal is to find ways to grow existing services and JRCC programs and add new ones. I hope to effectively apply my knowledge and skills in a new field.