TRIPS TO THE REBBE
After a two-year hiatus to Covid, the annual Trip to the Rebbe in honor of "Gimmel Tammuz" resumed on July 2-3. Several hundred people from our community, including a few dozen on an organized JRCC trip, joined tens of thousands of people from all walks of life and from around the world visited the Rebbe's synagogue and Lubavitch World Headquarters at 770 Eastern Parkway in Brooklyn, New York, and the Ohel, the Rebbe's holy resting place in Queens. The participants of the trip also spent some time exploring the Crown Heights neighborhood, enjoying great meals together, and took in words of inspiration and personal stories highlighting the living legacy of the Rebbe – all while traveling on a new, state-of-the-art coach bus. Thank you to all the organizers and hosts for making it a rewarding a meaningful experience. As in the past, a separate women's trip is also being planned for August 9-10. In the past, women who participated felt really inspired and elevated by the entire experience, and a greater sense of connectedness to the Rebbe. It was an uplifting retreat for all who participated, as well as friends and families back home with home they shared their inspiration.
COMMUNITY FARBRENGENS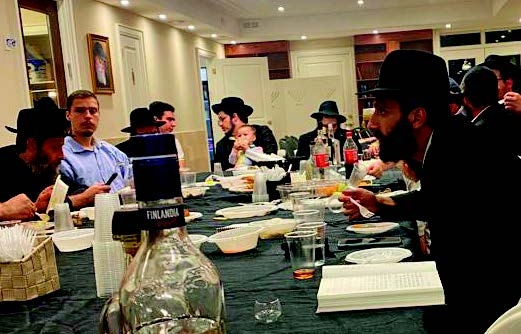 Last month featured two significant dates on the Chabad calendar that were commemorated with special farbrengens (Chassidic gatherings). The 3rd of Tammuz fell on Shabbat and was marked with afternoon gatherings at each JRCC branch following the morning Shabbat services. The date of 12-13 Tammuz is known as knows as the "Festival of Liberation" when the Rebbe Rayatz, Rabbi Yosef Yitzchok Schneerson was miraculously saved from his death sentence at the hands of his Communist persecutors. By Divine providence, the date he was liberated was also his birthday. The day was celebrated with a special farbrengen at the JRCC South Thornhill, complete with food, song and words of wisdom. Participants reflected on the inspiring story of the Rebbe Rayatz, who demonstrated both in his teachings and in his actions that with the right mindset one can overcome even the most daunting challenge.
YESHIVA SCHOLARSHIP GRANT
It's not too late for JRCC's Yeshiva Scholarship Grant for the upcoming academic year of study. Yeshivas are Torah study centers that allow for an immersive Jewish study experience that strengthens knowledge and builds learning skills for a lifetime of inspiration. Studying for a year or even a few weeks is a life changing experience. In order to ease the financial burden of taking time off to focus on Jewish study, the JRCC offers a grant to help young men and women from the FSU find out more about and connect with their Jewish roots, with a choice of several educational institutions in Israel, New York and New Jersey. The Yeshiva Scholarship Grant is part of the JRCC's Jewish Identity Grants initiative to assist members of our community in pursuing opportunities to strengthen our Jewish identity and connect with our heritage. For more information, visit jrcc.org/grants or call 416.222.7105 x293.
DAYCARE AND HEBREW SCHOOL REGISTRATION
If you haven't already done so, it is time to register your child for Daycare or Hebrew School for the coming year. Only a few spots remain. The JRCC Hebrew School offers a friendly and stimulating Sunday and/or after-school program at eight locations throughout the GTA. Visit www.jrcc.org/hebrewschool for a list of times and locations and to register. The JRCC's Leib and Mindel Gelfand Preschool and Daycare offers an enriching ECE program based on Montessori principles together with a warm, Jewish environment – as well as a variety of extra curricular programs as Music, Art, Computer, Creative Movement, French and Math, in addition to holiday celebrations and monthly field trips. There are only a few spaces left for children aged 16 months to 6 years for the upcoming school year. To register and for more information, visit jrccDaycare.org or call (416)736-0781