JRCC Rabbis in Parliament Hill
JRCC Rabbis In Parliament Hill, Ottawa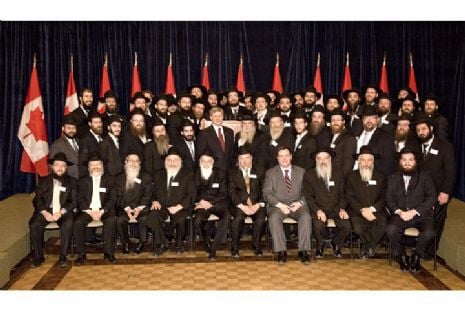 Over 100 Chabad Shluchim from across Canada at a reception on Parliament Hill in Ottawa this past Thursday - March 12, 2009. The Prime Minister's reception was also a tribute to Chabad's slain Shluchim to Mumbai, India - Rabbi Gavriel and Rivka Holzberg. He applauded the immediate arrival of a new shliach of Mumbai, saying it "sends a powerful message".
"Today I join with you in expressing my deepest sympathies to the Chabad Lubavitch family and all those who mourn the deaths of Gavriel and Rivka Holtzberg."
Canadian Prime Minister Stephen Harper joined members of the House of Commons in saluting the Canadian Federation of Chabad-Lubavitch as 100 emissaries gathered for a national conference on Parliament Hill.